Welcome to the ultimate Christmas list for all you FROTH HEADS out there!🎄
Are you looking for Christmas gift ideas for surfers?  Look no further!  From stocking fillers to my favourite changing robes, this is the ultimate destination for Christmas gift ideas for surfers!
I've included a variety of gifts at different prices – depending on your budget. 
Whether you're looking for a small stocking filler or a BIG crowd-pleaser present, any surfer would be stoked to get a gift from this Christmas list. 
Are you ready? Let's go… 🏄‍♂️ 🏄‍♀️
The Ultimate Christmas Gift Ideas For Surfers!
Up first, changing robes.  An absolute essential for surfing these days.  After all, they do come in extremely handy.  I've tried out a few different changing robes over the years but here are some of my favourites:
Gift Vouchers For The Wave
If you're anything like me, you want reliable surf.  And as much as nothing will ever compare to surfing in the ocean, the next best thing is pretty convenient for when there are no waves.
For all UK-based surfers, if you haven't visited The Wave in Bristol, I highly recommend.
You can get gift vouchers at varying price points to suit your budget: £10, £25, £50, £100 and £250.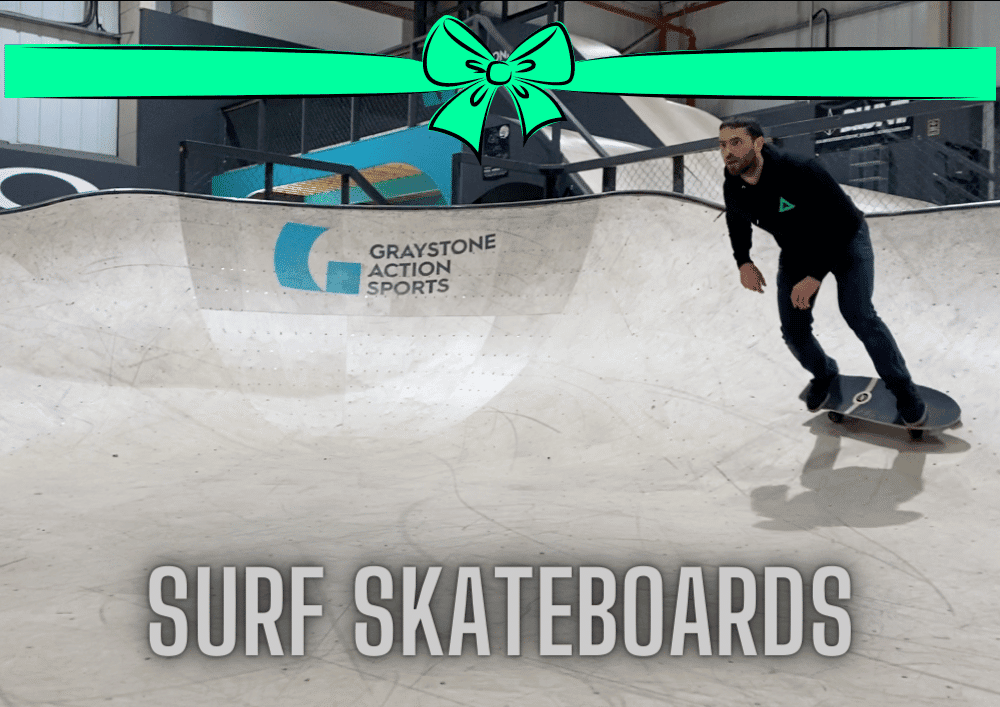 If you're a landlocked surfer like me, these are a great shout for a Christmas present. 
I have a couple of surf skateboards that I really rate.  Take a look below to see some suggestions….
Filipe Toledo Surf Skateboard
I am on the 
34″ Filipe Toledo #77
 in the photo above. 
I don't know about you but as a landlocked surfer, sometimes I get frustrated not being able to get out surfing as much as I'd like.  This skateboard has really helped me blow off steam when I take a break from work.  Here I am at Graystone Action Sports in Manchester – which I highly recommend for anyone in the north west of England. 
I also highly recommend this surf skateboard!  It's not cheap though with a hefty price tag of €330.  Let's hope you were very good this year!
YOW Dark 34.5 Surf Skateboard
The other surf skateboard I have heard good things about is the 
YOW Dark 34.5 Surf Skateboard
.  I haven't had a go myself but you can check it out on Surfdome.  It's actually on sale now at 
£280.45
 rather than £304.95.  Bargain.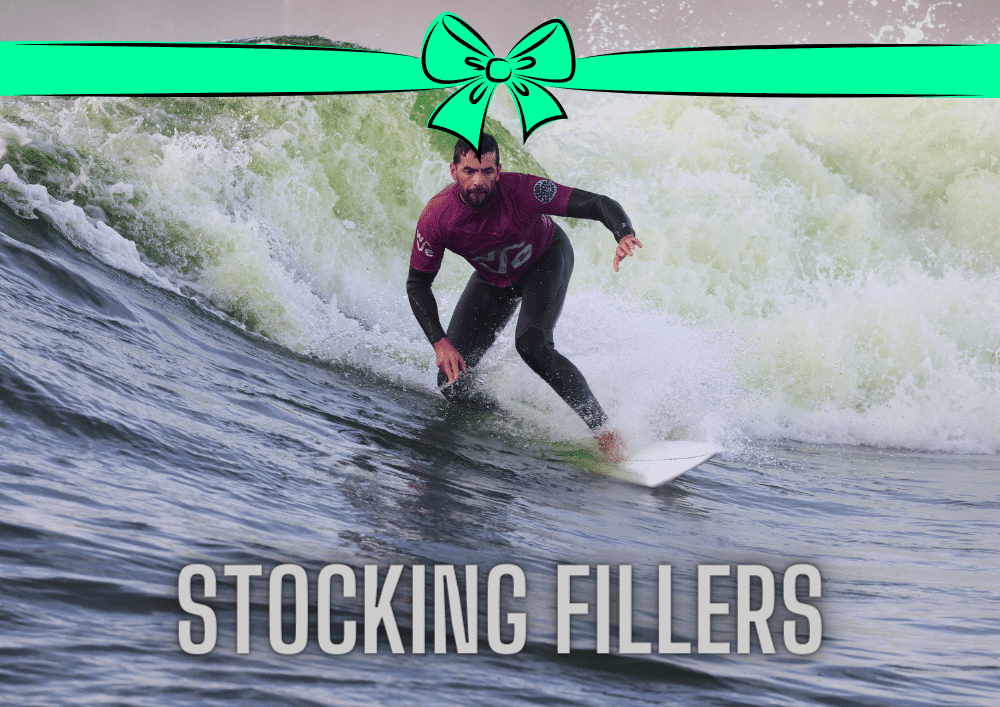 Stocking Fillers For Surfers!
Sandals
Reef Sandals (Mens)
 – comfy, practical, stylish. I live in these during summer months.  They are on sale at the moment at Surfdome for just £58.45.
Reef Sandals
 (
Women
) – According to the Reef website, these are some of the best selling styles.  From my experience, you can't go wrong with Reef.  Again these are on sale for Black Friday and cost just £19! 
Socks (Womens)
 – What's better than a pair of festive Vans socks?  Pick up a pair from Surfdome for just £9.95!
Socks
 (
Mens
) – An oldie but a goodie, grab a pair of comfy socks for a stocking filler.  Get a pair of Adidas socks from Surfdome for just £11.45 at the moment. 
Surf Ears
 – An expensive stocking filler but a useful one.  They are on sale at the moment for £44.99. 
Wax
 – That's more like it!  A stocking filler that doesn't cost the earth.  Pick it up at Finisterre for £3.  Another great idea that doesn't break the bank is a 
Northcore Wax Comb Surf Tool
.  At just £2.99 for this bamboo option, you can't go far wrong.  For £2.50, you can also get
 this bright green wax comb
.  
Surfer's Mug – Last but not least how about a mug for that cuppa to warm you up once you get out the water? I like this one.
Reusable Water Bottle
Reusable Water Bottle – Handy for trips to the beach, you can't go wrong with a reusable water bottle from Chillys.  They also do coffee cups!
A Beanie Hat
A great shout for the surfer in your life, here are two beanie hats from Finisterre to keep you cosy.  They both cost £35.  Here is one I like.  And the other.   
ANNUAL MEMBERSHIP - STRONG SURF CLUB
LAST BUT NOT LEAST…
Online Strength Training For Surfers – Annual Membership!
Whether you're treating yourself to an early Christmas present or buying the surfer in your life something special, a year's membership to Strong Surf Club makes the perfect Christmas gift. 
"The ultimate Christmas gift for all you froth heads out there!"
Get a membership today! 
Set yourself up for success with a year's membership to THE ultimate online strength training programme for surfers, Strong Surf Club.  
Price: Join for $270 – for a WHOLE. YEAR.
GBP: That works out at £222.86 for annual membership.
Fed up of getting out the water feeling disappointed?
Tired from paddling?  
Can't catch as many waves as you would like?
It's simple.  You need to get STRONGER. 
I can show you how.
Train on land.  Have more success in the water.  It's really that easy. 
Join my proven online strength training programme for surfers today!
I hope you have enjoyed these Christmas gift ideas for surfers!
All prices for products outlined in this email may change.
*GBP prices are approximate according to conversion rates and may vary as a result.  This is the price for annual membership.  Prices are in US Dollars as Strong Surf Club is delivered to your phone via a US app called TrainHeroic.